Nothing says a better thank you to your parents than a well thought out anniversary party. If this is the first party you are setting up, don't worry. We've got you covered.
These nine ten tips will give you and your loved ones an epic day.
1. Choose A Party Location
The site is everything for your parent's anniversary party. From the vow renewal's setting to the reception, you want to get it right. The reception, especially, should fit the taste of your parents. Remember that it is their big day – not yours. Do everything that they love – even if it's only for a day.
An ideal location will bring the best out of your party and keep smiles on the guests' faces the whole time. You have plenty of options.
A formal event hall
A renovated barn
A beach setting
A beautiful outdoor setting (with the view of the lake)
A restaurant
Think carefully and make a sound decision. Take your time and shop around if you need to.
2. Prepare A Guest List
Once you have the ideal location, decide who you'll like to have in your parent's anniversary party. Find friends who have stood with them through the years.  A couple of family members whom your parents get along with should also light up the party.
Make and send invitations a few weeks in advance. Last-minute rushes are never the way to go – you'll miss out on essential friends. Online invites should save you a lot of resources. Besides the venue and date, the invitation could also inform guests on the theme, dress code, and whether it includes plus ones or children.
3. Determine A Theme For Your Parent's Anniversary Party
You'll need to run this with your parents to create a memorable experience. What do they want the anniversary all about? What was their original wedding's theme? Such questions should inform what you settle on and make the overall planning less daunting. The food, décor, and general setting will not give you a hard time.
You could choose to go for:
Barbeques.
A hangi or luaus.
The decade your parents got married.
A fiesta.
Décor.
Achieve your desired mood with décor based on the party's theme. Create a classic and traditional setting with gold decors. It doesn't have to cost a fortune. Gold votive candles, metallic cutlery, elegant crystal glassware, organza chair sashes, and metallic gold balloons are an excellent place to start.
By now, you probably know your parents' favourite colours. Add a touch of these colours and keep them in an inspiring mood throughout the party. Don't leave out the white china for the table setting – it goes with pretty much everything. Keep it simple but don't shy from being a little creative.
4. Choose The Food To Match The Theme
Keeping your guests full and happy should be at the back of your mind as you make plans. Get in touch with a catering unit to make the work easier. They'll help you prepare a budget and keep track of every coin you spend. A themed anniversary cake should cap off your food plans. Some of your guests may be in it for the cake. Don't leave out different appetizers, non-alcoholic beverages, and cocktails. A vegetarian option should also be on the cards.
5. Prepare For Speeches & Toasts
For a heart-warming speech, reach out to your parent's original best man and maid of honour beforehand so they can keep the date free the anniversary party. A champagne toast around this time is sure to add a touch of class to such moments. Watch out for impromptu speakers; they may take the sting out of the party or deliver a momentous speech. It's best that you have a clear picture of your guests. You'll quickly figure out what they would say.
6. Develop The Guestbook Experience
Just because they won't find time to speak, doesn't mean that they can't share their kind thoughts. You can ask the guest to pen down reminisces as they settle into the party mood.
You'll be surprised at the beautiful memories your parents have made down the years. Read a couple of these as you wind up the party and crack a couple of ribs. Your parents could always take the guestbook on a couple of getaways and remember the good old days.
They'll have you in mind as they recall these events.
7. Think About Music & Dancing
Take your parents back in time, with a playlist of hit songs from their youthful days. Live bands should give a better experience than hip DJs. Get in touch with them in good time and have them play your parents' favourite songs. Find 'their song' and give them an unforgettable experience.
They'll get nostalgic, and it will show on their faces as they dance themselves away. Your guests, mostly their old friends, will also give you a taste of their epic dance moves. There is no harm in learning one or two steps while at it. Ensure that your venue has a spacious dance floor to pull this off.
8. Use Sentimental Photographs
Have a photo of your parent's photo framed, (metal prints will bring out its features), and create a breathtaking centrepiece. A couple of sentimental photos, with grandkids, children or from their honeymoon, can also light up the stage. You could also opt to create a slideshow and have it run on a well-staged screen for guests to savour.
Hire a photographer or videographer to record the intimate and happy moments you guys will share. You could also set up a hashtag that guests can use when posting. You'll have an easy time creating a souvenir for your parents.
9. Prepare For The Weather
The weather forecast should be on your mind as the anniversary draws nigh. Be prepared for the heat, sun, wind, rain, and make the most of anything that comes your way. Create memorable photos from the dark weather sky that makes for a homey view. Photos laced with raindrops will make for beautiful portraits. Whatever the weather, give your parents an experience of a lifetime.
Plan For Success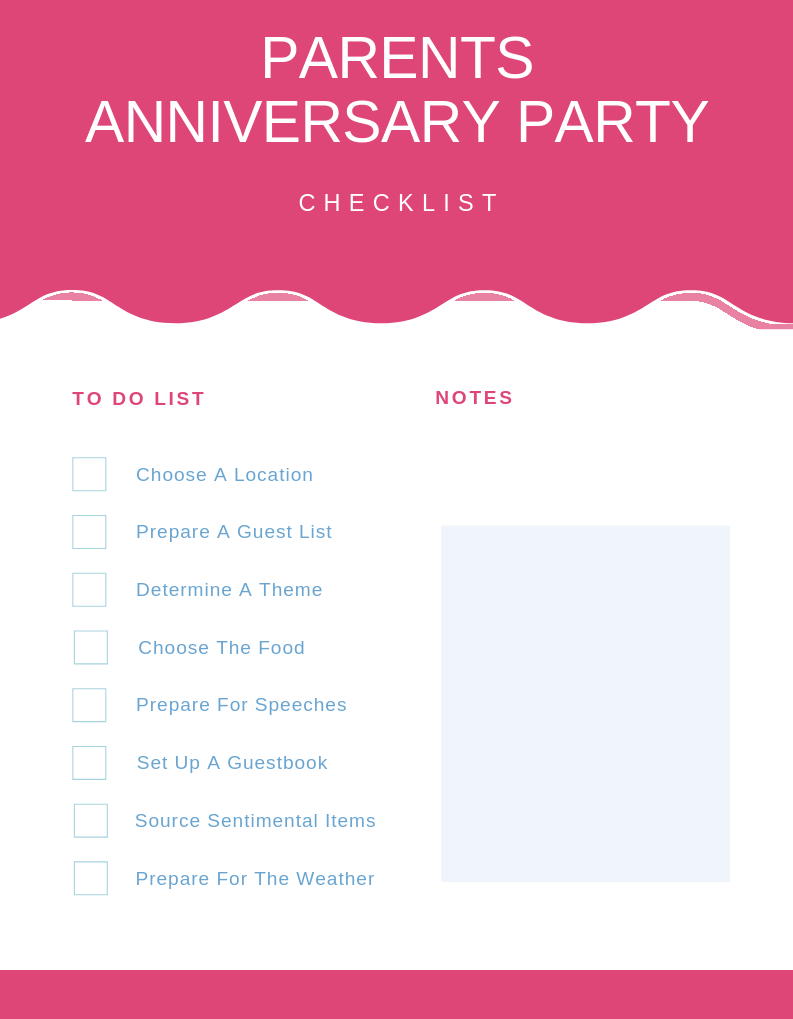 Plan the anniversary party early and take your time — tag along with a friend or family member to help with the planning. You don't want to get overwhelmed. Invite us first and we will do our best to make your event a memorable success. Give your parents a memorable anniversary party with these tips. Happy planning!